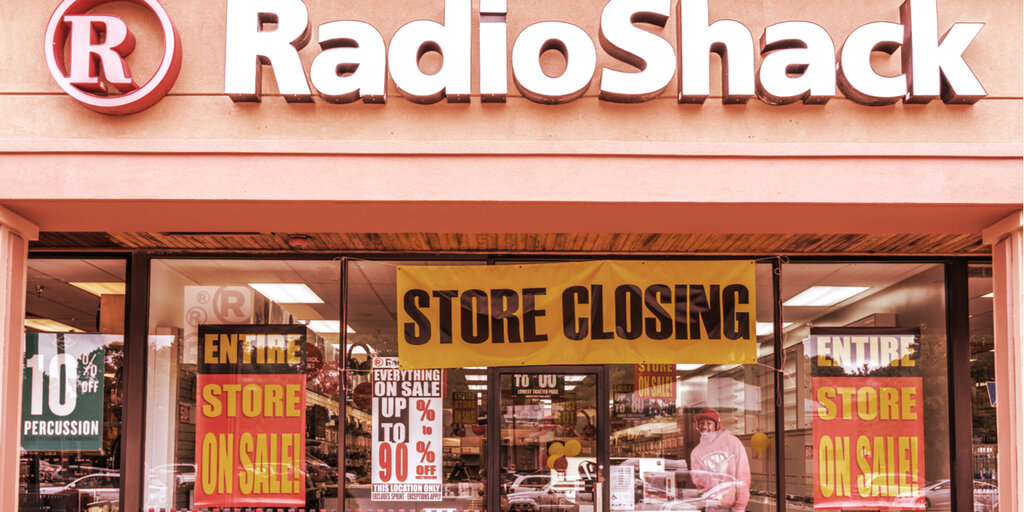 For years, electronics retailer RadioShack used the slogan, "You've got questions, we've got answers."
After the moribund chain's latest move, people have a lot of questions.
Over the weekend, the company confirmed a pivot into decentralized finance (DeFi), the name for blockchain-based protocols that allow people to send, receive, trade, lend, and borrow funds without intermediaries.
RadioShack DeFi, the website now reads, "will be the bridge between the CEO's [sic] who control the world's corporations and the new world of cryptocurrencies."
According to documents on the website, "RadioShack, and RadioShack alone, can bridge the gap and 'cross the chasm' of mainstream usage for Cryptocurrency."
(If you're raising your hand to ask a question, we see you.)
The website touts a partnership with Atlas USV (universal store of value), a DeFi protocol that allows applications to be built atop it. RadioShack DeFi aims to begin by creating a decentralized exchange (DEX) in the vein of Uniswap or Sushiswap that taps into liquidity pools. This model lets token holders trade directly for any other token.
Atlas's Ethereum-based token USV is new enough that it isn't even one of the 10,000+ assets tracked by CoinGecko or CoinMarketCap, though it can be traded on DEXs. According to RadioShack, the protocol "allows USV users to purchase third-party tokens in the open market and then transfer them to the Atlas USV treasury in return for discounted USV tokens."
eerie how much radioshack relaunching as a defi platform late in this bull market is like kodak reinventing itself with btc…
Source link