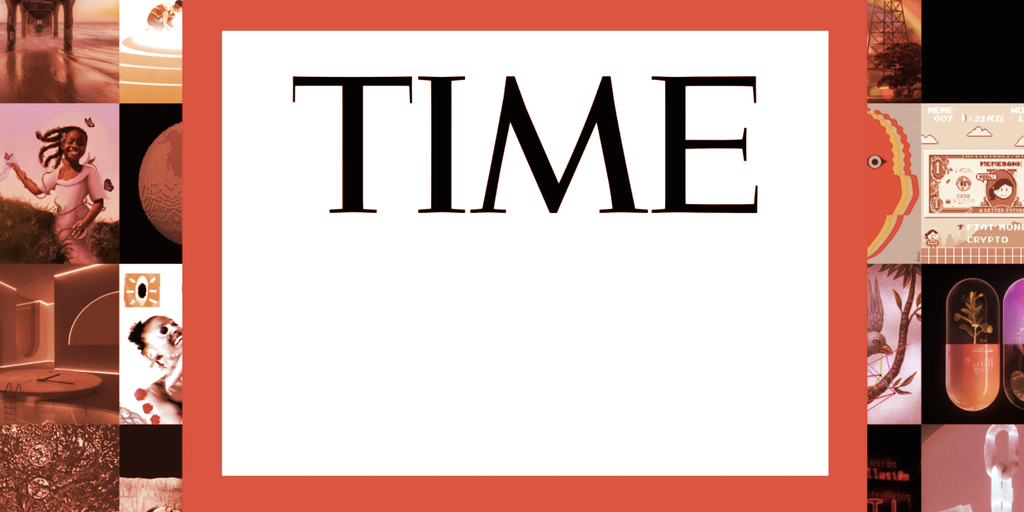 In brief
Long-running magazine and media brand TIME has launched a number of crypto and NFT initiatives in 2021.
TIME President Keith Grossman spoke with Decrypt about his belief in Web3 and the potential to help onboard readers into crypto.
When the NFT market exploded in March and brought Web3 into the mainstream, a 98-year-old print magazine and news organization generated one of the most surprising headlines in the space. TIME launched Ethereum NFTs based on its iconic red-bordered magazine covers, and generated $446,000 worth of ETH in the process.
Bridging the nearly century-old brand into the crypto world "was not planned" for long, TIME president Keith Grossman told Decrypt. In fact, the NFT sale came together in a matter of weeks. Grossman said he first saw the potential for entering the NFT market following the sale of the classic Nyan Cat meme as an NFT in February.
"There's the great philosopher, Mike Tyson, who has that quote—that everyone has a plan until you get punched in the mouth," Grossman said. In this case, the surging NFT market and evolving use cases for blockchain tech were a staggering blow that shifted the course of TIME's path. "I looked at that moment, and it all just clicked on me," he added.
Launching magazine covers as NFTs—which publications like Fortune, Rolling Stone, The Economist and Vogue have all done since—was just the tip of TIME's Web3 play. Within weeks, the publication added cryptocurrency payments for its digital subscriptions, and partnered with Grayscale to produce educational crypto content. TIME was paid in Bitcoin from that deal and still holds it on its balance sheet.
But Grossman didn't just want to buy crypto and sell NFTs. He was looking for a way to integrate NFTs and Web3 tech to "change the relationship we have with consumers." Given how quickly TIME had jumped into the space and how rapidly the industry changes, Grossman admitted that he "didn't know what that was going to look like" at the time. So he turned to the crypto community for guidance.
"I really spent a good part of six months just listening in Clubhouse and in [Twitter] Spaces, and talking to really influential and successful people within the space—who knew way more than me about how I should think about our brand," he explained.
That led to TIMEPieces, an Ethereum NFT collection that not only spotlights a number of artists from around the crypto industry—including the current artist-in-residence, 12-year-old Nyla Hayes—but also provides holders access to TIME's paywalled website. Launched in September, it pairs Web3 assets with what Grossman describes as "frictionless access" and utility to a familiar Web2 interface.
Last month, TIME began making metaverse moves in partnership with Galaxy Digital, including a newsletter, educational content, and a sponsored TIME 100 Companies metaverse category. TIME was paid in Ethereum for the deal and will hold onto its ETH. The educational aspect suggests the kind of influence that TIME wants to have in bringing in newcomers.
"We take it really seriously," Grossman said. "We've been around for 98 years, and our goal is to be around for another 98 years, if not longer."
Moving TIME forward
To be sure, many onlookers scoffed at a 98-year-old legacy media brand jumping on the NFT bandwagon. TIME was an outsider to crypto. Were the NFTs a desperate money grab, some wondered? But Grossman has been trying to push past the magazine's image as stodgy or old-fashioned since he became its president in 2019.
Last year, he told Digiday that TIME had suffered "10 years of neglect" due to mismanagement and ownership transitions, and that he was eager to reach a new generation of readers.
As Grossman tells it, he's long been at the axis of technology and media. At Wired, he helped launch the tech magazine's first iPad edition, which the late Apple CEO Steve Jobs held up as an example of tablet reading done right. He also helped develop award-winning ad tech at Ars Technica, and launched Bloomberg's Quicktake streaming news platform.
Beyond that, Grossman is a true believer in both Web3 technology and the community that has formed around it. He's ever-present on Twitter, popping into Spaces to discuss new NFT collections and trends, sharing artwork from TIME drops, and extending a morning "gm" to his 28,000+ followers. (And yes, he has a .eth ENS domain at the end of his display name.)
"This moment—that we're shifting from online renters to online owners—may very well be one of the most transformative moments in our lives, right? Because we're already online," he said. "This notion that we could be online and be owners is absolutely mind-boggling, and this Web3 evolution of the internet plus finance to me is just incredible."
Grossman has also connected with creatives and collectors across the NFT space. He believes that "some of the best creativity and some of the best IP is actually being developed today in this space." Recently, TIME announced plans to create a kids' cartoon series around Robotos NFTs, and previously collaborated with Cool Cats.
He said that the crypto and NFT community has been very giving with its time and energy to help TIME make the leap into Web3. One community member, he said, created a Discord server for TIMEPieces and handed it over, asking nothing in return.
Grossman and TIME are now trying to repay that generosity to the community, whether through showcasing up-and-coming creators, donating a portion of NFT sales to charity, or evenly splitting half of all remaining NFT revenue with artists.
"It was really important to the entire TIME organization," Grossman said, "that as we started afresh, we did it the right way."