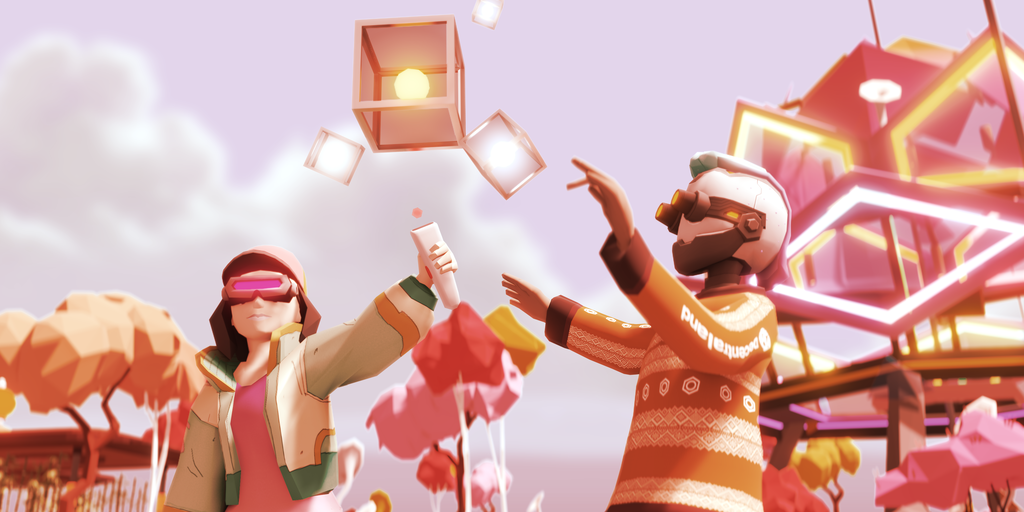 Interest in metaverse land, virtual real estate and the hottest new craze in crypto, is exploding: over $100 million was invested in it last week alone, according to crypto analytics site DappRadar. 
Metaverse land is virtual property in the form of NFTs, unique digital tokens that can represent ownership in just about anything online, such as art, audio or, in this case, a piece of the metaverse itself. Most metaverse activity currently exists on the Ethereum network, the blockchain that powers the second biggest cryptocurrency project by market cap, though competing network Solana is quickly picking up the pace. 
In the metaverse, regardless of which network, investors can buy the land, build their own virtual world on top of it, and eventually interact and explore as avatars—all through NFTs. 
Investors are on a metarverse land-buying frenzy partly because of Meta—formerly known as Facebook, the seventh biggest company in the world by market cap—rebranding in a bid to focus on creating an NFT metaverse.
"The wave of attention towards virtual worlds like The Sandbox and Decentraland started with Facebook's rebranding to Meta," said DappRadar in a blog post. 
"Undoubtedly, metaverse land is the next big hit in the NFT space. Outputting record sales numbers and constantly increasing NFT prices, virtual worlds are the new top commodity in the crypto space. Metaverse events are becoming an industry-standard in the crypto space."
Last week, $86.56 million was spent on land for the biggest metaverse project: The Sandbox. Adidas last week partnered with The Sandbox and the sportswear giant said that the metaverse was "one of the most exciting developments in digital," helping it gain traction as the top metaverse project. 
Other big brands and celebrities invested in The Sandbox include Japanese tech investment firm Softbank, LG Technology Ventures, blockchain gaming company Animoca Brands and rapper Snoop Dogg. 
Next up in land sales, according to DappRadar, was Decentraland—with investors spending $15.53 million into it in the last seven days. Decrypt last week explored the virtual Decentraland game world, and it is already popular with NFT real estate companies: ​​NFT-based virtual real estate company Metaverse Group last week spent $2.43 million on a plot of its virtual land. 
CryptoVoxels and Somnium Space, two other Ethereum virtual worlds, sold $2.68 million and $1.10 million last week in land sales respectively, said DappRadar. 
DappRadar's figures, however, just look at metaverse land being built via Ethereum. Solana, an Ethereum-competitor and the network behind the fifth biggest cryptocurrency by market cap, has also seen an explosion of interest in NFTs that seek to plug into the metaverse.
Portals, which describes itself as the "Animal Crossing meets Sim City meets Sandbox/Decentraland metaverse platform on Solana," just launched on Friday and has already sold nearly $10 million in NFTs: $1.65 million through its initial sale of 5,000 Portal keycards, and around $7.5 million in secondary sales on Solana NFT marketplace Magic Eden. That's enough to place it third, just behind Decentraland, on the list of top-selling metaverse NFTs in the last week.
Magic Eden, which itself only launched four months ago, has quickly risen to prominence among various competing NFT marketplaces on Solana. According to Variant Fund co-founder Li Jin, Magic Eden now has roughly half as many users as leading Ethereum NFT marketplace OpenSea, though it's already processing twice as many transactions.
Disclaimer
The views and opinions expressed by the author are for informational purposes only and do not constitute financial, investment, or other advice.