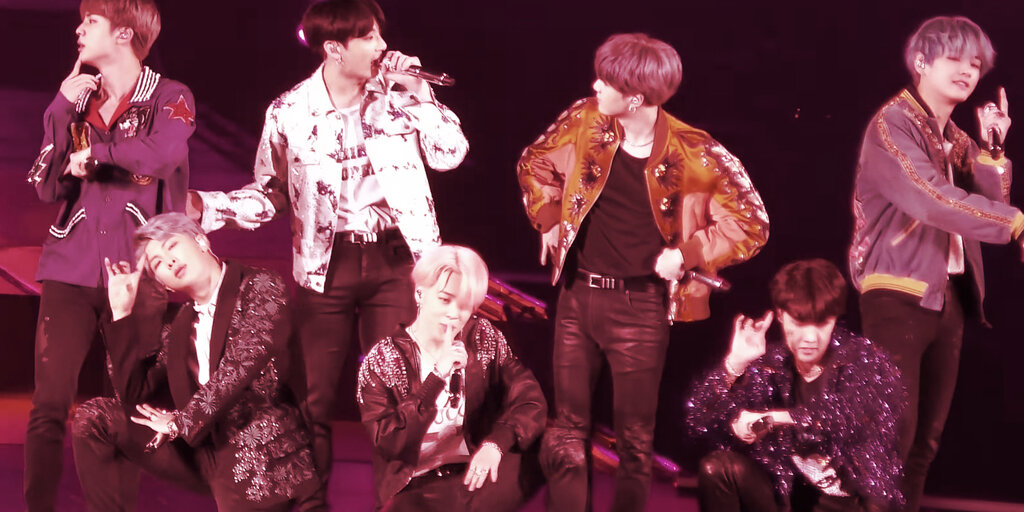 The management agency behind South Korean boy band BTS is pressing ahead with plans to produce non-fungible tokens (NFTs), despite sharp criticism from the K-pop act's millions of supporters. 
After entertainment giant Hybe announced plans to launch a range of NFTs based on its roster of artists earlier this year, fans of BTS took to Twitter to protest at the environmental impact of NFTs.
However, on Thursday, Hybe confirmed in a statement —the first time it has responded publicly to the backlash—that its NFT plans will go ahead.
"We believe NFTs have the potential for expansion and hope they will provide fans with more varied experiences and opportunities to express themselves," John Kim, project lead, HybeAmerica, told the Wall Street Journal.
He added that an initial launch of NFT photo cards of BTS, who are among the music industry's most profitable artists, will happen in less than six months.
Highly coveted images
Physical images of BTS band members are highly coveted, with some fetching thousands of dollars online. BTS figurines, prints, and other merchandise are a huge profit maker for Hybe, which generated over $200 million in merchandise and licensing sales in 2021.
this is so contradictory, they got bts promoting the ods, green hydrogen and a lot of environmental issues with hyundai, and now selling NFT? that doesn't make any sense, they can't let that happen, this is the worst decision hybe has ever done and I can't support this.

— 🧈 ⁷ (@alwysnamjooning) November 3, 2021
Plans for BTS NFTs were first revealed in November, when Hybe…
Source link