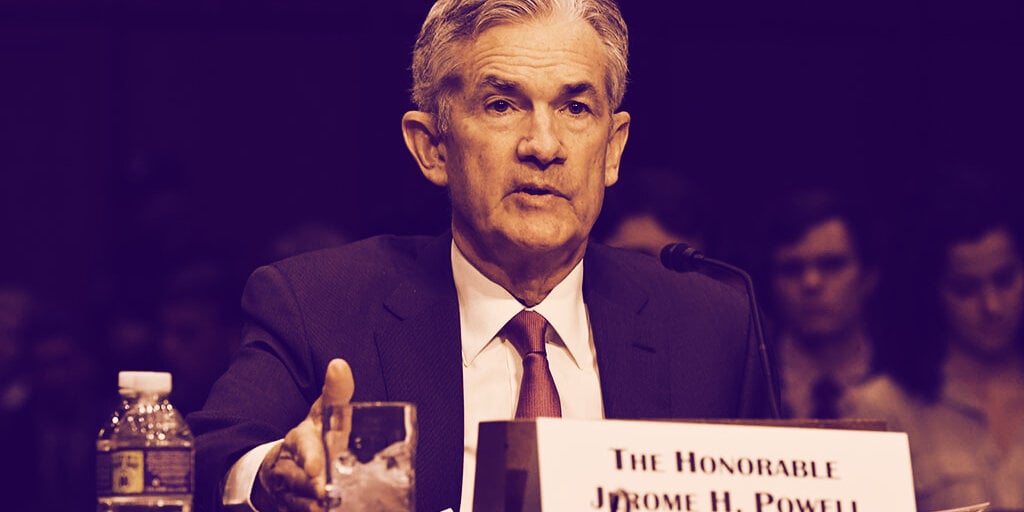 In brief
The Fed today said that inflation should no longer be considered "transitory."
Both stocks and Bitcoin reacted badly to the news.
Bitcoin and stocks suffered today as both the crypto and traditional markets appear to have been spooked by Federal Reserve Chair Jerome Powell's comments about inflation. 
Bitcoin dropped to $56,245 during a hearing before the U.S. Senate panel—a nearly 5% dip from when it stood at $59,161 earlier today—after the Fed chairman said inflation should not be considered "transitory."
"We tend to use the word transitory to mean that it won't leave a permanent mark in the form of higher inflation," he said. "I think it's probably a good time to retire that word and try to explain more clearly what we mean," he commented before adding that the "risk of higher inflation has increased."
The Dow Jones dropped by 617.69, or 1.8%, at 34,518.25, following the comments, while the S&P 500 fell by 76.25 points—1.6%—to 4,579.02.
The largest cryptocurrency by market cap has since recovered and at the time of writing was trading for $57,432, still down 2% in the past 24 hours, as per CoinGecko data. 
Powell added that the omicron variant of the coronavirus poses "downside risks to employment and economic activity and increased uncertainty for inflation," which also appears to have had a bearish effect on markets.  
Bitcoin, despite often being touted as independent from traditional markets, dropped with stocks and equities following Powell's comments—a sign that the crypto asset continues to be correlated with the stock market, as it has been ever since the coronavirus-induced market crash in March 2020.
Bitcoin is typically marketed by its proponents as a hedge against inflation because, like gold, it has a finite supply. Only 21 million coins will ever be minted, unlike the U.S. dollar. 
But that the crypto market again reacted badly to signs that inflation in the U.S. economy may persist suggests that Bitcoin and other crypto assets may yet still be too risky for investors in times of market uncertainty.
Disclaimer
The views and opinions expressed by the author are for informational purposes only and do not constitute financial, investment, or other advice.
Source link