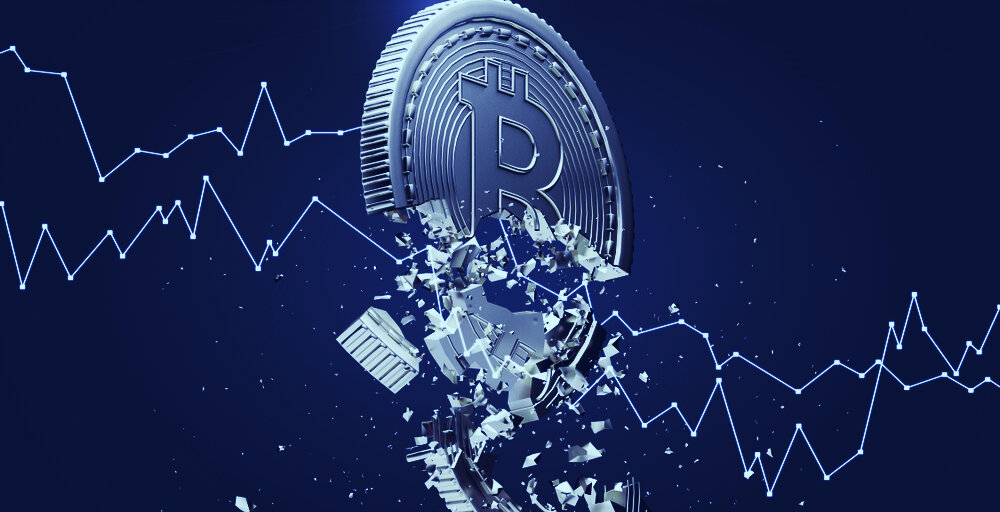 In brief
Bitcoin's market dominance dropped very low this weekend—along with the price.
But Ethereum's market dominance grew.
Amid this weekend's crypto crash, Bitcoin's market dominance dipped to nearly its lowest levels ever. At one point on Saturday, when the entire crypto market was suffering, the market dominance of the first and largest cryptocurrency by market cap was just 38.32%. 
The only time it has dipped that low this year was in May, when it hit 37.76%, according to CoinGecko data. And that's not far from its lowest dominance ever, in May 2018, when it briefly touched 33%. Throughout 2018, Bitcoin mostly hovered around 40%. 
Market dominance refers to one cryptocurrency's share of total crypto market cap. The entire crypto market cap right now stands at $2.4 trillion, and Bitcoin's market cap is $924 billion. 
This time last month, it was over $1 trillion. 
Since Saturday, Bitcoin's dominance has picked up. At the time of writing, TradingView puts Bitcoin's dominance at 41%.
The selloff that started on Friday and accelerated Saturday hit the entire coin market, but hit Bitcoin particularly hard. Concerns over the Omicron COVID-19 strain, plus the Fed talking about a "higher risk of inflation" rattled traditional equities markets—and crypto was not exempt.
Bitcoin's price and market dominance has dropped as investors flog the asset. 
As of Sunday afternoon, Bitcoin's price has crept back up to $48,930, down just 1% over the past 24 hours and 10% in the past week. 
Ethereum, the second largest cryptocurrency by market cap, has also suffered in the past few days, in terms of price. But its market dominance has actually gone up as people sell their Bitcoin. The latest figures from CoinGecko show Ethereum's dominance was 20% on Saturday—the highest it's been since 2018. 
To put that in perspective, earlier this year, in March, it was as low as 11%. Some commentators in the crypto world have said that the "flippening"—when Ethereum's market cap grows bigger than Bitcoin's—could be well on its way.
Ethereum still has a long way to go before that happens, though. At the time of writing, its market cap was 46% less than Bitcoin's, at $491 billion.