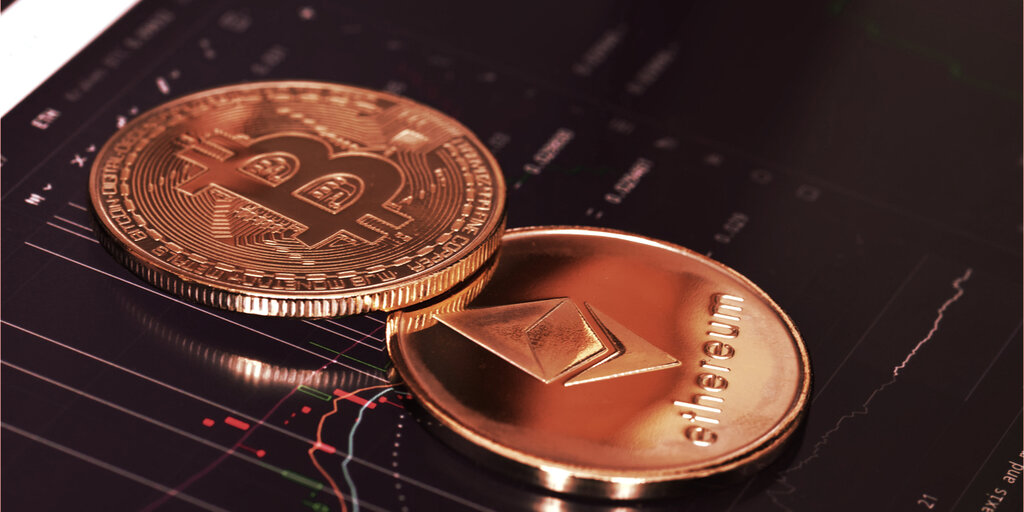 "Buy the dip!" Bitcoin proponents will tell you. But how do you know when BTC is done dipping?
The price of Bitcoin is down again, shedding over 6% of its price tag in 24 hours. Since December 27, the coin has dropped from nearly $52,000 to $43,500, per data from CoinGecko. 
Bitcoin's market cap dominance—meaning the percentage of the overall crypto market's value it's responsible for—is down to just over 37%, its lowest rate since 2018. But that doesn't mean it's the only crypto asset having a chilly start to January. Elsewhere in the top 10, Ethereum lost nearly 8% of its value on Wednesday, Terra was rocked for 9% losses, and Solana got burned by 10%. Overall, the cryptocurrency market cap is down over 6% to $2.2 trillion. The last time it fell below $2 trillion was September 2021. 
It's not just crypto that's having a bumpy hump day. U.S. equities were also down today after the Federal Reserve indicated it could move up its timetable for raising interest rates to mid-March. Minutes from the mid-December meeting of the Federal Open Market Committee, released today, showed that some officials want to follow that interest rate increase by jettisoning some of the nearly $8.8 trillion in bonds it's holding. In short: The Fed is going to stop printing money and make it more expensive to borrow in order to steady the economy and keep rising inflation in check.
Stock traders took note. The Dow Jones Industrial Average closed down nearly 1% today after setting a record yesterday. Nasdaq witnessed an even steeper drop, losing 3.3%. 
That's important as Bitcoin's price…
Source link