In brief
White is an early Coinbase employee who co-founded Bakkt
White's departure comes as Bakkt's share price has slumped
Adam White, a founder and President of the digital assets and rewards platform Bakkt, took to Twitter on Thursday to say he is moving on from the company. His departure comes at a time of uncertainty for Bakkt, a subsidiary of Intercontinental Exchange (ICE), a financial giant that owns the New York Stock Exchange.
White, an Air Force veteran who made a name in crypto as one of the first employees at Coinbase, did not state specific reasons for his departure or say what he is doing next, simply saying he is "optimistic about the future."
After a great 3+ years at bakkt, next week will be my last

I've loved working at intersection of crypto + markets and good to see the industry finding the balance between innovation & regulation. Lots of work still to do here but never been more optimistic about the future 🌕

— Adam White (@WhiteAdamL) December 23, 2021
White did not immediately respond to a Twitter message asking for details of his future plans.
His exit from Bakkt comes at a time when the company's share price has slumped badly since going public in October via the reverse merger process known as a SPAC. While the firm's stock initially traded as high as $50, it has floundered since and was trading under $9 on Wednesday: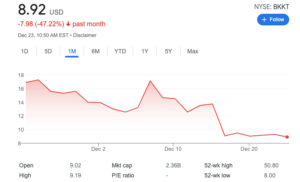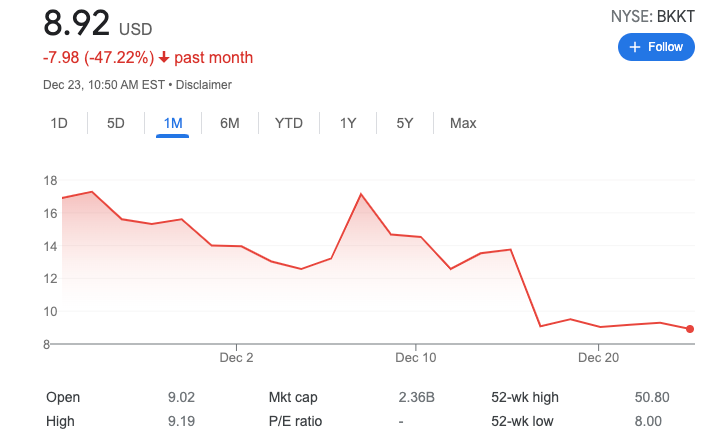 Meanwhile, Bakkt has struggled to carve out a niche for itself even as the broader crypto market has boomed. When it launched, Bakkt boasted that it would leverage its Wall Street ties to help bring Bitcoin and crypto…
Source link